ANUBHAVA – Continuing Yoga Studies [anubhava.org]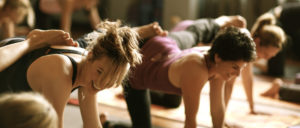 We offer a wide range of topics on teaching skills, therapeutic applications, yoga history and philosophy. Each one of our workshops is accredited with Yoga Alliance and can go toward ERYT 500 status. Or take any course simply to expand your knowledge and deepen your practice.
 We are Bruce Bowditch, Jaimie Perkunas and Frank Jude Boccio.  Each of us have published critically acclaimed books in our field of expertise. Combined, we offer a tremendous range of yoga-related topics for students and teachers interested in deepening their practice or class offering. We are committed to helping each student and aspiring teacher to deepen their understanding of yoga either for their own practice or to guide their students to a greater grasp of yoga.
For more information go to: anubhava.org
ANUBHAVA  is a Sanskrit word meaning "direct experience",  or the understanding that comes from one's own experience. It describes the insights and wisdom that are reached from study and committed effort on the path of yoga.